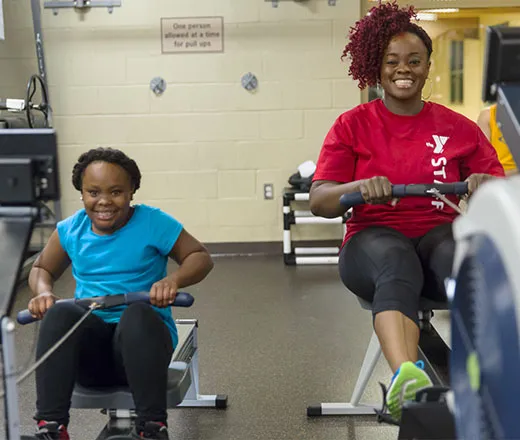 FREE Teen Wellness Center Orientation
Help your teen build confidence by learning how to use the Y! This free orientation shows teens ages 13+ proper equipment use and how to use our wellness center while learning safety tips and rules. Schedule an orientation today!
Schedule an Orientation- Downtown
Schedule an Orientation- 20th Ave
---
Strong Teens
Strong Teens gives kids ages 11-16 the fundamentals they need to improve strength, endurance, speed, power, and flexibility. This 6-week program includes a safe introduction to the wellness center and its equipment, introductory healthy living principles and stretching/ recovery techniques.  Your teen will leave every sweat session with wellness knowledge along with a fun and energizing workout!
Upon completion of the program, your teen will be able to use the Oshkosh YMCA health and wellness center without adult supervision.
(Children ages 10-12 should be supervised by a parent while in the wellness center if they have not completed Strong Teens.) 
YMCA360
YMCA 360 is a virtual 360 degree Y experience. Find fitness classes, youth sports, and healthy living resources for all ages. Youth offerings include E-sports fitness, Gymnastics & Cheer, Martial Arts, and Kids Yoga and Pilates, just to name a few!
Current Youth Programs
For all our youth programs and events, check out our program guide! We offer hundreds of youth opportunities throughout the year- from swimming, to group sports, to family events, and so much more.
Programs rotate on a seasonal basis, so be sure to check back to discover all of the new and exciting offerings!
Do youth need to be supervised by a parent or guardian?
Children under the age of 8:
Must always be under direct supervision of a parent/guardian unless enrolled in a staff supervised program or activity. Child Watch is available for supervision of children 6 weeks through 7 years old.
Children ages 8+: 
Allowed to use the appropriate spaces available without direct supervision during non-school days/hours. To view restricted spaces, see our youth behavior policy. 
Children ages 13+:
Allowed to use the Y without supervision, however, a Teen Wellness Center Orientation is highly encouraged. 
What is appropriate youth gym attire?
Dress Code Policy:
Please embrace the family friendly environment of your Y. Any clothing considered an undergarment should not be worn alone.  Sports bras are considered an undergarment.  Members cannot wear inappropriate, immodest, or sexually revealing attire. Swimsuits are only to be worn in the pool areas. Dress pants, jeans or other items with rivets, buttons or zippers that may damage the upholstery are not allowed.
Shirts and closed-toed shoes are required in all Health & Wellness areas (which includes indoor track and gyms). Please store street shoes in a locker. Shoes are required unless specified otherwise by the class/program. 
Can youth attend Group Exercise classes?
While some classes do have age requirements, there are many group exercise classes available to youth & teens. To view current classes and age information, please see our program guide.
20TH AVE
Contact:
Ben Clewien
Wellness & Personal Training Director
Phone: (920) 230-8439 ext. 119