OSHKOSH Y CURRENT MEMBERSHIP RATES
View the current rates below or download the PDF here.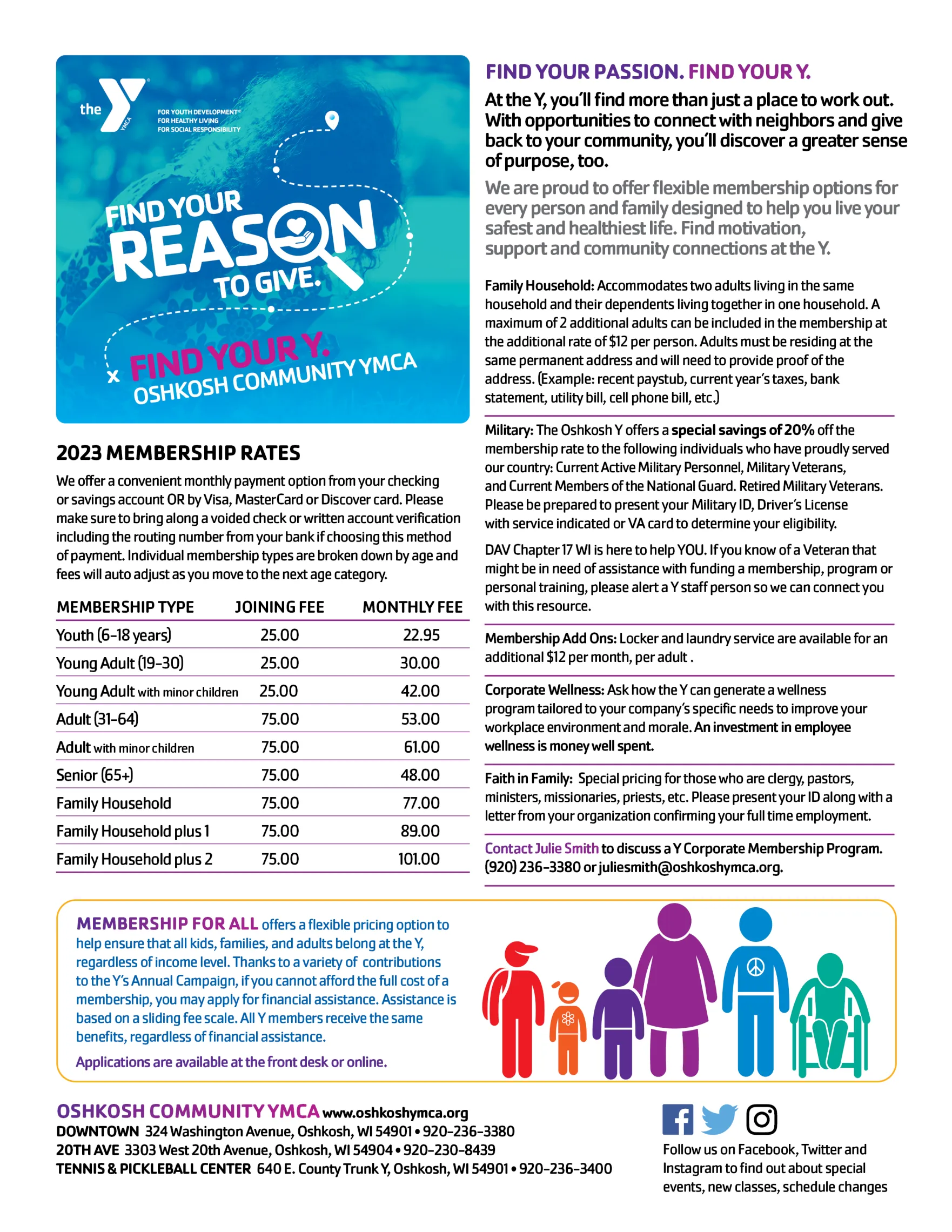 ABOUT MEMBERSHIP CATEGORIES:
Youth: For children ages 6 through 18
Children under 8 years of age must be accompanied by an adult (16+) at all times when using the Y.
 
Young Adult: Individual membership age 19 through 30
A young adult may add their minor children to their membership for an additional $12.00 monthly. Minor children must be under your legal care.
 
Adult: Individual membership ages 31 through 64
 
Adult with minor children: Household membership which accommodates an individual adult (31+) & minor children living in the home and under your legal care.
Senior: Individual membership ages 65+
Medicare Advantage Memberships: The Y is proud to offer membership incentives through insurance-related program partnerships. Each of these programs allows you to have your membership fees waived as a benefit of your Medicare Advantage or supplement plan: Renew Active, SilverSneakers, and Silver&Fit. 
 
Family Household: Accommodates two adults living in the same household and household dependents (to include dependent young adults under age 26 who reside in the household and remain on your health insurance and/or are full time college students). A maximum of 2 additional adults can be included on the membership at the additional rate of $10 per person (Adults must be residing at the same permanent address and will need to provide proof of the address. (Example: recent payroll stub, current year's taxes, bank statement, utility bill, cell phone bill or insurance bill).
Summer Membership: The Y offers short term summer membership options. Rates are determined each year.  
Corporate Membership: Many area employers have established a corporate membership benefit at the YMCA. For more information, please contact (920) 236-3380. New employers are added weekly.  
Military Veterans Membership: The Oshkosh Y offers special savings of 20% off the membership rate to the following individuals who have proudly served our country: Current Active Military Personnel, Military Veterans, and Current Members of the National Guard. Retired Military Veterans. Please be prepared to present your Military ID, Driver's License with service indicated or VA card to determine eligibility. Operation Salute Membership Rates
PAYMENT METHODS:
Individuals and families can purchase a membership at either the Downtown or the 20th Avenue's Y front desks. Membership dues and additional services can be paid as follows:
Convenient Monthly Auto Payments: We offer a convenient monthly payment option from your checking or savings account OR by Visa, MasterCard or Discover card. Please make sure to bring along a voided check or written account verification including the routing number from your bank if choosing this method of payment.  As a convenience, auto-paid memberships continue indefinitely until the member cancels the membership. Verification of cancellation is provided.  The Oshkosh Y requires a 2-business days notice to cancel an auto pay membership. Cancellation will end the NEXT scheduled auto-payment. Email your cancellation to info@oshkoshymca.org or call (920)-230-8439 during business hours for assistance.
Pay In Full: Members may choose to pay upfront for six months of one year. Full payment can be paid with cash, check, MasterCard, Visa, or Discover card. Joining fees are not charged as long as you renew within 15 days of expiry.  
FINANCIAL ASSISTANCE:
One rate does not fit all, so we offer the FOR ALL Financial Assistance Program. Membership for All helps to ensure that all kids, families and adults belong at the Y, regardless of income level. Thanks to a variety of contributions to the Y's Annual Campaign, if you cannot afford the full cost of a membership, you may apply for financial assistance. All Y members receive the same benefits, regardless of financial assistance.
ADDITIONAL SERVICES:
Locker/Laundry Service: Laundry and permanent kit locker service are available at both Oshkosh Y locations for $12 per month/per adult/per location. Daily laundering of workout clothes is included in this fee.
Nanny Policy: The Oshkosh YMCA offers a Nanny Pass for members who have a full-time nanny who cares for their children. The member must sign up for the pass, which allows the nanny age 16+ to accompany children to the Y in absence of their parents. The pass does not add the nanny to the family membership, nor does it allow the nanny to participate in Y activities. Families wishing to have the nanny participate in Y activities are invited to purchase a membership for them.