DOWNTOWN TEACHING KITCHEN
The Y is deeply committed to supporting local agriculture and changing behaviors for the better. Our Teaching Kitchen allows community members to expand their culinary skills and knowledge in an effort to bring back the family dining experience.
Local culinary and nutritional experts, along with our Wellness Staff, facilitate programs that inspire participants to prepare healthy, cost effective foods that taste great and are locally accessible. The Teaching Kitchen provides universal access that unites able-bodied individuals and persons with disabilities under the pursuit of making wellness accessible to all.
FIND EVENTS IN THE TEACHING KITCHEN
Volunteer in the teaching kitchen
---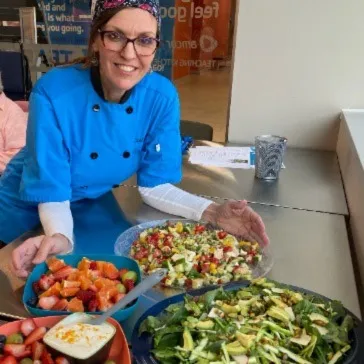 FOR QUESTIONS & SCHEDULING ASSISTANCE
Contact:
Lindsey McMullin
Wellness & Healthy Living Program Director
Phone: (920) 236-3380 ext. 390