OPEN SWIM INFORMATION
All members are welcome to take advantage of our open swim hours. Go for a swim, relax in the lazy river, or bring the family for a day of fun in the family pool! Swimmers of all levels are welcome. 
FAMILY POOL & FACILITIES DETAILS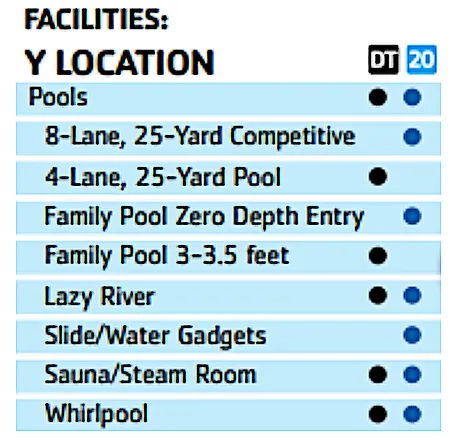 The 20th Ave and Downtown YMCA Aquatic Centers each offer their own unique amenities for a fun-filled aquatic experience. 
The 20th Avenue YMCA boasts the Kuhn Family Pool, an eight-lane, 25-yard, competitive lap pool, as well as a warm-water family fun pool. The Oshkosh Truck Family Pool includes a water slide, zero-depth entry, a lazy river current, and water spouting gadgets.

The Downtown YMCA is home to a four-lane, 25-yard lap pool, as well as a 3-3.5 foot family pool great for teaching swimming lessons. The pool also includes a large lazy river with the option to turn on spouting water.
Both YMCA locations have an on-deck Sauna, Steam room and Whirlpool and are staffed with certified lifeguards that are prepared to respond. Our staff is dedicated to making the Y aquatics experience one that is enjoyable, as well as safe.
OSHY SWIM MEETS POOL USAGE
Occasionally during the year, the Oshkosh YMCA OSHY Swim Team has the opportunity to host a home meet. Just like your favorite home team, hosting a meet is a source of pride and benefits the Y & our team. During home meets, the 20th Ave Aquatic Center is closed to accommodate the swimmers, teams and families. We appreciate your understanding!
20th AVE OPEN SWIM | FAMILY POOL
Contact:
Lawson Harris
20th Ave Aquatics Director
Phone: (920) 230-8439
DOWNTOWN OPEN SWIM | FAMILY POOL
Contact:
Melissa Wollin
Downtown Aquatics Director
Phone: (920) 230-8915