WE ARE HERE

FOR ALL

 
Flexible Pricing Options to meet your individual/family needs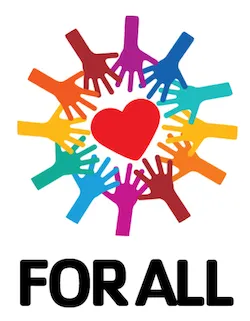 The YMCA is in your community to give everyone an opportunity to learn, grow, and thrive. At the Y, no child, family, or adult is turned away. We recognize that for communities to succeed, everyone must be given the opportunity to be healthy, confident, connected, and secure.
Flexible Pricing uses the funds raised from the YMCA Annual Campaign to ensure that no one who qualifies is turned away due to their inability to pay because we believe in helping all people lead healthier, happier lives. Whether someone's hardship arises from a layoff, an illness, or other financial challenges, the YMCA strives to assist anyone in need of our programs and fellowship. While many of our programs serve children, Flexible Pricing also supports individuals and families of all ages.
For more information email ForAll@oshkoshymca.org or call us at either location. 20th Ave: (920) 230-8439 | Downtown: (920) 236-3380. Scroll down for application.
---
What is FOR ALL?
The Oshkosh Y programs and services are available to everyone regardless of ability to pay. We understand that one fee does not fit all. Our FOR ALL Financial Assistance Program offers a flexible pricing option and is designed to meet each individual's financial needs.
What is flexible pricing?
Flexible Pricing can be applied to memberships for youth, adults, and families that fall within our income guidelines. This option can also be applied to youth programs such as childcare, youth sports, swim lessons, youth recreation, and more. Those individuals or families not able to pay the full membership or program fee may receive Flexible Pricing as determined by the YMCA guidelines.
To apply for Flexible Pricing, you can fill out an application.  Please  print the application or pick one up at the Y then submit it to either YMCA Branch.
Who is eligible? Any individual or family who has a permanent address in our service area and who finds the cost of the Y does not fit into their monthly budget.  We also encourage you to apply if you are having a short-term financial crisis or a medical emergency.
How will the membership assistance amount be determined? FOR ALL Membership assistance will be determined by the number of individuals residing in the household, the combined gross income of individuals living in the household, the Y sliding fee scale and the availability of Y funds.
How quickly can I expect to receive a response from my application? Applicants will be notified by mail within 5-7 business days once all paperwork is received.
 
How long will my pricing continue? FOR ALL membership assistance is typically awarded for six or twelve months. Memberships can be renewed by completing the application and providing updated financial documentation.
How do I apply for FOR ALL Financial Assistance?
If you feel like you are a good fit for FOR ALL membership assistance, but would like the ease of joining online, please use the code MFA20 to get 20% off your membership.  If you think you would qualify for more than 20%, please fill out the application found below.
Please read directions thoroughly.  You can email the completed application and your documentation to ForAll@oshkoshymca.org
Completely fill out a short  For All Membership Financial Assistance Application.

Provide copies of required financial documentation. Include copies of all the following that apply:

Previous year's 1040 or non-filing status for all individuals 18 years and older. Non-filing status is for those who did not file taxes. A STATEMENT OF NON-FILING must be completed.
Last two paycheck stubs or letter from employer indicating hours worked and pay.
Government Assistance: "Explanation of Benefits" which can be obtained here
Social Security Disability:  Letter from Social Security office or Notice of Decision stating the monthly benefit amount.
Unemployed:  Notification of eligible benefits from unemployment office.
For more information and links to Tax Return Information or Non-Filing Transcript click here.
---
ADDITIONAL INFORMATION:
The YMCA reserves the right to deny financial assistance to anyone whose actions are contrary to the core values and mission of the YMCA.

The YMCA has a no tolerance policy regarding individuals listed on the Sex Offender Registry.

Applications will be kept for 30 days. All unclaimed applications will be considered void and the applicant will need to reapply.