FITNESS CLASSES FOR OLDER ADULTS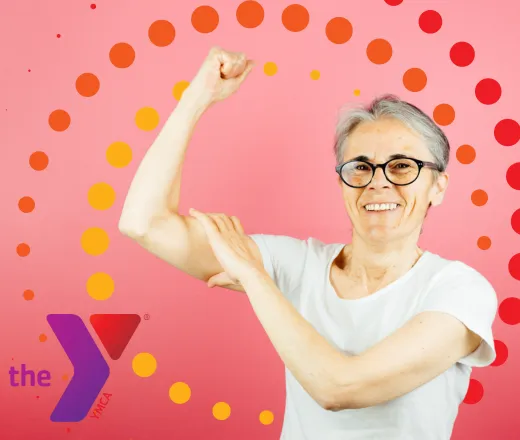 Our ForeverWell fitness classes are a great opportunity to get active, pursue your health goals, and meet new people. 
ForeverWell fitness classes are FREE to Oshkosh Y Members, unless otherwise noted

Some classes require a reservation 

You do not need to have a SilverSneakers Membership to participate in SilverSneakers classes- classes are open to all!
CLASS OFFERINGS
Our programs rotate seasonally, so be sure to check back for new additions! To ensure you are viewing the most up to date class offerings, please see the class schedule below.
ARTHRITIS AQUATICS: This class offers water exercises that are recommended by the Arthritis Foundation for joint movement. There are also exercises for maintaining strength. The ability to swim is not required as all classes are offered in the shallow pool which at its deepest point is 3½ feet. Participants also enjoy a social and recreational component.
---
FOREVERWELL CHAIR YOGA: You will move your whole body through a series of seated and standing yoga poses. Chair support is offered to safely perform a variety of postures designed to increase flexibility and balance. Restorative breathing exercises and a final meditation will promote relaxation and mental clarity.
---
FOREVERWELL CIRCUIT: Combine fun with fitness to increase your cardiovascular and muscular endurance with a standing circuit workout. Upper body strength-work is alternated with low-impact aerobic choreography. A chair is offered for support, stretching and relaxation exercises.
---
FOREVERWELL CYCLING: Take a fun-filled group ride that's fitting for beginners and seasoned cyclists.
---
FOREVERWELL PILATES: Pilates offers unique opportunities for participants to work on core muscles and toning at a less strenuous pace than other Pilates classes.
---
FOREVERWELL STRENGTH: This strength training class will use handheld weights, resistance tubing, a ball and more to increase muscular strength, endurance, range of motion and the ability to perform activities of daily living. A chair is used for seated and/or standing support.
---
FOREVERWELL TRX: The TRX strap is a great tool for older adults to improve their balance, increase joint mobility and stability, and gain muscular strength. You will use the strap to push, pull, and lift your own bodyweight.
---
FOREVERWELL WATER FITNESS: This class is designed to be an aerobic workout without stress to your joints. We focus on toning, stretching, and flexibility. Participants also enjoy a social and recreational component.
---
SILVERSNEAKERS® CLASSIC: Have fun and move to the music through a variety of exercises designed to increase muscular strength, range of movement, and activity for daily living skills. Handheld weights, elastic tubing with handles, and a ball are offered for resistance; and a chair is used for seated and/or standing support.
---
ZUMBA GOLD: Ditch the workout and join the party! This is an easy-to-follow program set to Latin and International music that lets you move to the beat at your own speed. This class is great for those that prefer a low-impact workout experience.
FOR QUESTIONS ABOUT FOREVERWELL
Contact:
Errah Wheel
Director of ForeverWell
Phone: (920) 230-8916
FOR QUESTIONS ABOUT GROUP EXERCISE CLASSES
Contact:
Brandy Hankey
 Director of Wellbeing & Group Exercise
Phone: (920) 230-8439