IMPORTANT PHASE ONE REOPENING DATES:
May 26-May 29: A soft opening exclusively for our cause driven members who stayed with us during the closure

June 1: Open to all Members
AVAILABLE DURING PHASE ONE:
Court time for Tennis and Pickleball. (By reservation only)

Private and Semiprivate lessons for both Tennis and Pickleball. (By reservation only.

Ball Machine use for both tennis and Pickleball (By reservation only)

Summer Camp (Beginning June 8) is open for registration. We are continuing to work to make this a safe program option. Call 920-236-3400 for information and to register.

​​​​​​​

Locker rooms will be CLOSED during this time.

During Phase One of our reopening, the Tennis Center will have limited hours. Please see the temporary Phase One hours below.

​​​​​​​For a complete set of Tennis Center Reopening Guidelines, click

HERE

.

Court reservations and lessons must be made ahead of time and full payment is due upon reservation. If you have questions, please call the Tennis Center at 920-236-3400. We will have a staff person available May 18-May 22 from 9 a.m.-1 p.m.

Please see the temporary Phase One Reopening hours below!

---
Oshkosh Y Tennis Center
640 E. County Trunk Y
Oshkosh, WI 54904
(920) 236-3400


Like us on Facebook!

TEMPORARY PHASE ONE REOPENING HOURS: (Beginning May 26)
The below hours are TEMPORARY hours during our Phase One Reopening and are subject to change. Hours may vary based on court usage.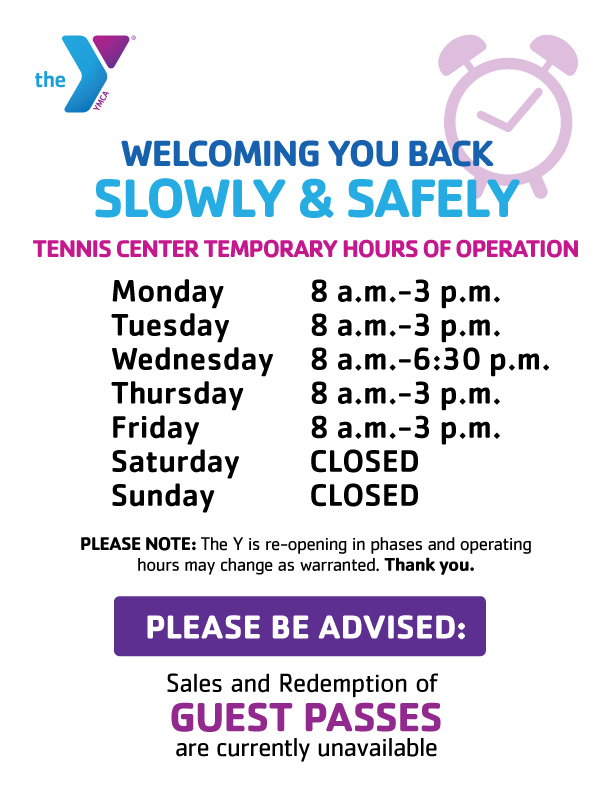 ​​​​​​​
MONDAY 8:00 a.m.-3:00 p.m.
TUESDAY 8:00 a.m.-3:00 p.m.
WEDNESDAY 8:00 a.m.-6:30 p.m.
THURSDAY 8:00 a.m.-3:00 p.m.
FRIDAY 8:00 a.m.-3:00 p.m.
SATURDAY & SUNDAY CLOSED


Sheila Counts • Tennis Center Director • sheilacounts@oshkoshymca.org
Scott Niemi • Head Tennis Professional • scottniemi@oshkoshymca.org

Rick Thiel • USPTA Certified Professional
Robert Henshaw • UW-Oshkosh Head Tennis Coach
Steve Francour • Lawrence University Head Tennis Coach
---
Welcome to the Oshkosh Y Tennis Center!
Learn or perfect this lifelong sport at the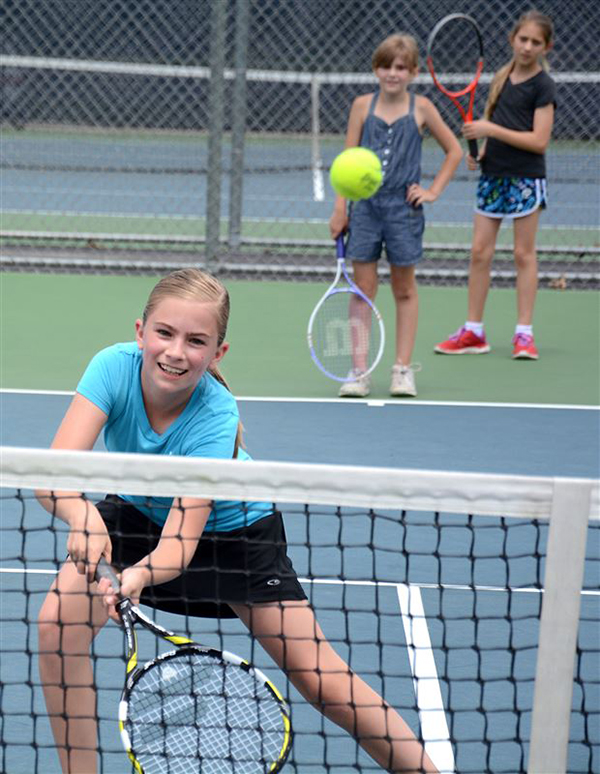 Oshkosh Community YMCA's Tennis Center. Our updated program center has 4 indoor Tennis courts and/or 8 Pickleball courts and features tennis leagues and lessons for all ages. There are full locker rooms, ping pong, a variety of cardio pieces (treadmills and ellipticals) and exciting programs for beginner, intermediate and advanced athletes.

We've got something for everyone! Private and group lessons are also available for youth and adult players. Call to set up a short tour and see all that we have to offer! Check out our seasonal program session dates below and sign up today!

---

OPEN COURT TIME
You can reserve a Tennis or Pickleball court for your personal matches. Get a group of friends together and get a great workout while you play! Court rates will vary depending on day and time. Please call the Tennis Center at (920) 236-3400 to reserve your court! If you drop-in, court availability may be limited and is not guaranteed.

We look forward to serving you at the Oshkosh Y Tennis Center. Please call us to register for lessons and leagues. We will make sure to develop a plan specific to your level. The Tennis Center is a wonderful place to exercise and develop new friendships.