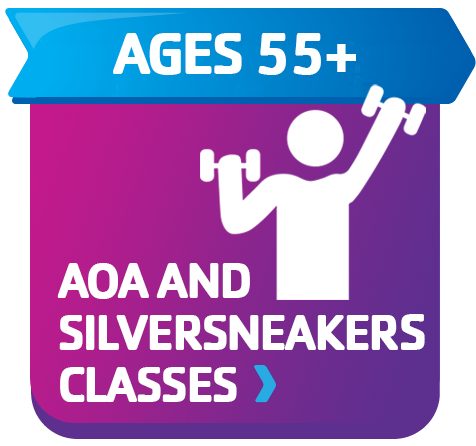 Our Active Older Adult (AOA) and SilverSneakers Classes will resume beginning on June 8, 2020. Please note that, at this time, there are NO Water Aerobics Classes. These will begin at a later date which has yet to be determined.

NEW: You must reserve your spot in ALL classes until further notice. You can do so by clicking the button to the left. You can view and print simple instructions HERE.

If you are not comfortable reserving your spot in class online, please feel free to call or stop at the front desk and we can help!


---



Active Older Adults: Ages 55+
All class offerings are FREE to Oshkosh YMCA Members, unless otherwise noted. Activity Members ages 55+ can participate in Active Older Adult programming and Water Fitness classes for a reduced fee of $4.50/day, Monday-Friday before 1 pm. A 15-visit punch card is also available for $65. Open Pickleball is only eligible for use of the day pass and/or punch card before 12 pm. For Arthritis Aquatics fee information, please see the class description below.

Note: You do not need to have a SilverSneakers Membership to participate in SilverSneakers classes.

---
ARTHRITIS AQUATICS (DT and 20th): This class offers water exercises that are recommended by the Arthritis Foundation for joint movement. There are also exercises for maintaining strength. The ability to swim is not required as all classes are offered in the shallow pool, which at its deepest point is 31/2 feet. Participants also enjoy a social and recreational component.

Activity Members can pay $3 per class or $60 for a 30-day program pass, available at the Front Desk.
---
INTERMEDIATE CHAIR YOGA (DT): This class incorporates yoga poses that are standing, chair-based and floor-based on a mat.
---
LOW IMPACT AEROBICS (DT): This class offers a full body workout that will help you move without high impact.
---
SENIOR AEROBIC DANCE (DT and 20th): Enjoy a great workout while moving to the beat! This class will improve your cardiovascular endurance and keep you smiling!
---
SENIOR CORE (20th): Strengthen your core, improve balance and increase flexibility. Moves include Pilates, Yoga and Weight Training. This class will use mats on the floor.
---
SENIOR CYCLING (DT and 20th): Take a fun-filled group ride that's fitting for beginners and seasoned cyclists.
---
SENIOR PILATES (DT and 20th): Pilates offers unique opportunities for participants to work on core muscles and toning. This version is less strenuous than a "regular" Pilates class.
---
SENIOR TRX (DT and 20th): The TRX strap is a great tool for seniors to improve their balance, increase joint mobility and stability, and gain muscular strength. You will use the strap to push, pull, and lift your own bodyweight. Visit Group exercise class schedule for dates and times.

FEE: (Per full 7-week session) $15 Member, $30 Activity Member
---
SENIOR WATER FITNESS (DT): This class is designed to be a solid aerobic workout without stress to your joints.
---
SILVERSNEAKERS CIRCUIT (DT and 20th): Combine fun with fitness to increase your cardiovascular and muscular endurance power with a standing circuit workout. Upper body strength-work (with hand-held weights, elastic tubing with handles and a ball) is alternated with non-impact aerobic choreography. A chair is offered for support, stretching and relaxation exercises.
---
SILVERSNEAKERS CLASSIC (DT and 20th): Have fun and move to the music through a variety of exercises designed to increase muscular strength, range of movement, and activity for daily living skills. Hand-held weights, elastic tubing with handles, and a ball are offered for resistance; and a chair is used for seated and/or standing support.
---
SILVERSNEAKERS YOGA (DT and 20th): Chair Yoga will move your whole body through a complete series of seated and standing yoga poses. Chair support is offered to safely perform a variety of postures designed to increase flexibility, balance and range of movement. Restorative breathing exercises and a final relaxation will promote stress reduction and mental clarity.
---
SIT, STAND AND MOVE (20th): This non-impact class is great for beginners and those with limited mobility. Exercises are designed to help keep your joints flexible, reduce pain, and improve balance and strength. Movements can be performed either standing or sitting. Participants have the option to use hand-held weights and a ball for resistance.
---
STRETCH, FLEX & BALANCE (DT): Stretch your muscles from head to toe and improve balance using simple yoga and Pilates moves.
---
WALK FOR FITNESS (DT and 20th): Anyone 55+ can use the walking tracks, free of charge, Monday-Friday 5-8:30 am.