Before & After School Care | Kids Day Out
If you need care for your elementary school age child(ren), we have programs to help! The Oshkosh Y offers various programs for children in grades K-5 including Kid's Club before and after school care, a NEW Extended Learning Academy to accommodate in-person and virtual school schedules, and our Kids Day Out program for when kids have off of school! Find a program that fits your family below.

Learn more about our Kid's Club & Kid's Day Out Program below!
---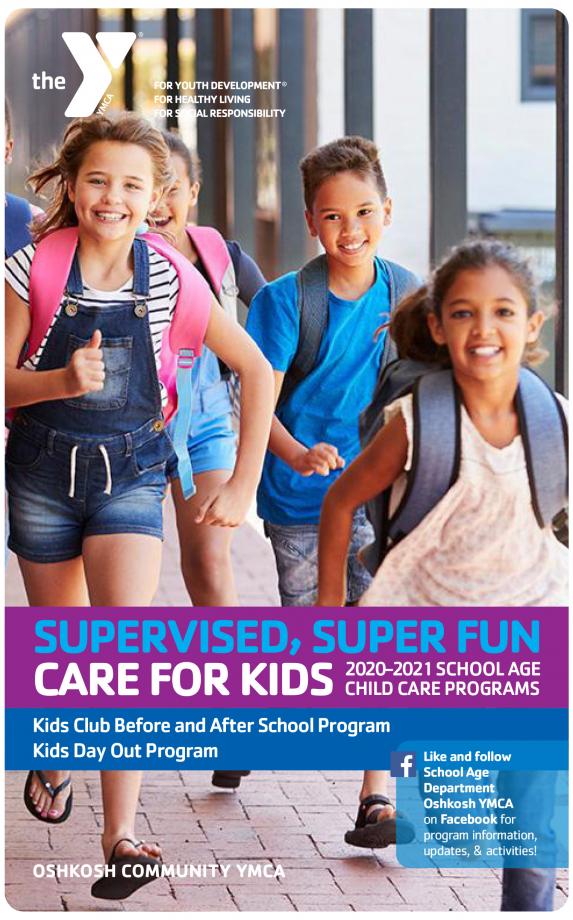 KID'S CLUB BEFORE & AFTER SCHOOL CARE

The YMCA Kid's Club is designed with the working parent in mind. The program provides quality before and after-school care at five elementary school locations.

Kid's Club provides a safe, supervised environment in which kids ages kindergarten to 5th grade can participate in a variety of activities, both educational and recreational. Activities include; arts and humanities, science and technology, health, wellness, and fitness, character development, team building, and much more! The Kid's Club program provides a light breakfast at the before school locations and an afternoon snack at the after-school locations.


Ages:

Kindergarten - 5th Grade


Hours:


Franklin and Oakwood Before School: 6:00 AM - School start time
After School: School dismissal until 6:00 PM
*This includes early dismissal days


Locations:


Carl Traeger (After School only)
Franklin Elementary (Before and After school)
Oaklawn (After School only)
Oakwood (Before and After school)
Read (After School only)


Dates:


Before and After School Care is open each day school is in session for the Oshkosh Area School District. Care is available on all Oshkosh early release Wednesdays. If school is delayed or cancelled, Before and After School is cancelled, as well.


Note:


The Y uses an average school calendar to calculate fees. Fees are paid in 9 equal payments, September - May. There is no payment for the month of June. Care is only offered on a full-time basis. An annual registration fee due upon registration.

Like and follow the Oshkosh YMCA School Age Department on Facebook!


REGISTRATION:

The Annual Registration fee is $40 per child. Registration fees can be paid by check or over the phone with Eric Davis at (920) 230-8967.






You can email, fax, or drop off your registration form.

Email: Ericdavis@oshkoshymca.org
Fax: (920) 236-3402
Mail: Attn: School Age Department
Oshkosh Community YMCA
324 Washington Ave.
Oshkosh, WI 54901

Welcome packet (including enrollment forms) will be emailed to families after registering. To request a paper copy, please email Emily Karis at the contact information below.

---


KIDS DAY OUT
Kid's Day Out is a full day school age childcare program offered on "school out" days and follows the Oshkosh School District calendar. Children in grades K-5 will participate in arts and crafts, group games, science and nature, outside time, swimming and character development activities. Children will need a lunch, a swim suit and towel, and appropriate clothing for outdoor play each day they are in attendance. The YMCA will provide a morning and afternoon snack.






Further program information and enrollment forms will be emailed to families after registration. To request a paper copy, please email Emily Karis at the contact information below.