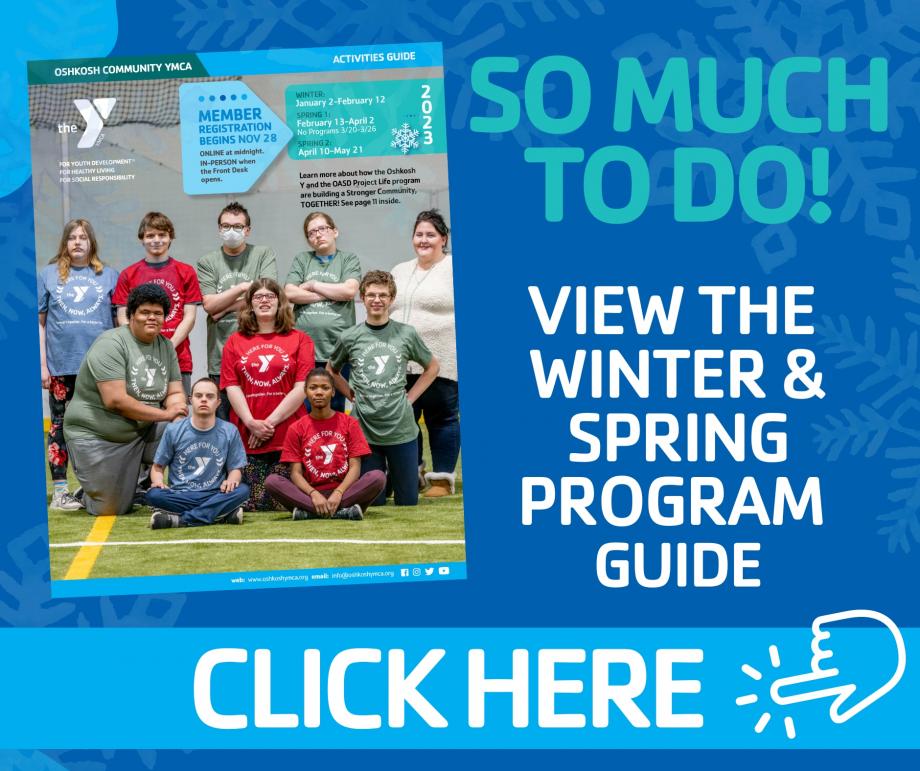 The Winter/Spring Program Guide is here!

Members get priority registration

beginning Monday, November 28

and can register for programs for all three sessions! Call 920-230-8439 (20th) or 920-236-3380 (DT) with questions.
WINTER: January 2-February 12
SPRING 1: February 13-April 2 No Programs 3/20-3/26
SPRING 1: April 10-May 21

MEMBERS CAN REGISTER MONDAY, NOVEMBER 28.
Non-Members can register for the Winter Session beginning December 12.
---


PLEASE NOTE: Unprecedented times often call for extraordinary actions, and your YMCA is prepared to respond to the changing times and community needs in transformative ways. Through these rapidlychanging times, we want to ensure you that our approach is thoughtful, safe, and evolving. We want to provide the best experience for you and your family, safely. This means that there could be some changes to facility hours, policies, procedures, equipment availability, programs availability and more.


Many programs offered are scheduled during session time frames and have a specific start and end date, unless otherwise noted. Class registration is on a first-come, first-serve basis; however activities with a low attendance may be cancelled. Oshkosh YMCA members get priority registration. Non-Members may register two weeks prior to the start date of the program.
IN-PERSON ONLY REGISTRATIONS
There are some programs that require in-person registration only. Many of these programs require additional information such as medical or parental permission. Information on the days, times and fees of these programs will be listed online and it will indicate if in-person registration is required.

All online transactions must be paid for using Visa, MasterCard or Discover Card.