Beyond Limits Veteran Program

ABOUT THE PROGRAM:

Beyond Limits is a special program for veterans at no cost. This 12-week wellness program is for any veteran from any military branch who served in the armed forces. To qualify, you must have a disability rating from the Veteran Affairs. For 12 weeks, veterans receive in-depth training with our nationally certified strength coaches, registered dietitians and wellness coaches. They work side by side with other veterans throughout this program and strive to overcome any physical and mental challenges.
After completion of the program, Veterans will receive a 20% discount on a membership of choice, including a Family Membership, and pay NO Joiner Fee! Please email Julie Smith at
juliesmith@oshkoshymca.org
to receive this benefit or visit our Membership Page for more information.
If you are a Veteran and currently have a Veteran Affairs disability rating and want to participate in our next Beyond Limits Program, apply below!
---



SPONSOR A VETERAN
Please consider supporting this program. You can donate to the program directly or choose to sponsor a specific veteran whose story inspired you.
(Read more about our Veteran below.)
Beyond Limits is a FREE 12-Week Program for our injured veterans and would not be possible without the support of our program supporters and community members.
The Oshkosh Community YMCA is committed to keeping this program 100% free for our applicants. Your tax-exempt donations allow us to continue to provide hope through exercise and nutrition modalities.
Thank you for your support!
Below are a few sponsorship opportunities for you to consider:
T-shirt Sponsor | $25
Purchase a "R.E.D." (Remember Everyone Deployed) t-shirt for only $25. T-shirts are 100% cotton and come in various sizes. This shirt is a great way for you to show your support for not only this program, but for everyone who has served and has been deployed.
All t-shirt sales and proceeds benefit the Beyond Limits Program.
Patriotic Sponsor | $250
Patriotic Sponsors will receive a R.E.D. t-shirt and have access to our Freedom Friday workouts for one year.
Veteran Sponsor | $1,000
Veteran Sponsors cover the cost to provide clinical programming and a 12-week Beyond Limits Program for
one veteran
. They will also receive a R.E.D. t-shirt and have access to our Freedom Friday workouts for one year.
Program Sponsor | $2,500
Program Sponsors cover the cost of clinical programming for
three veterans
. They will receive a R.E.D. t-shirt and have unlimited access to our Freedom Friday workouts. Program Sponsors will also receive three customized (with your company logo and/or name) Beyond Limits Banners that will hang in all three of our Oshkosh YMCA facilities for one year and recognition at all Beyond Limits Events and celebrations.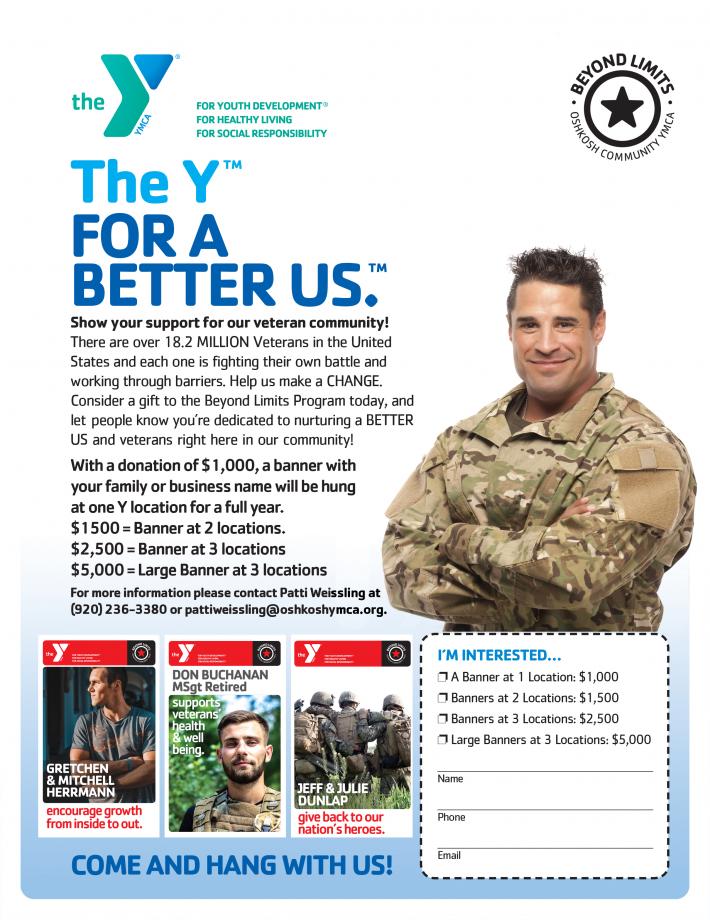 Give back to our nation's heroes and sponsor a Beyond Limits Veteran today!