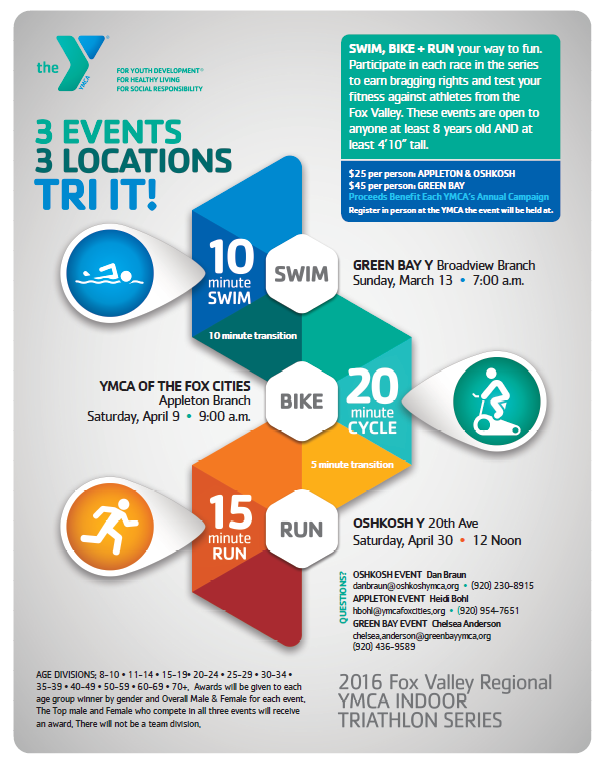 INDOOR TRIATHLON EVENT HISTORY
Beginning in January 2009, the Oshkosh YMCA has hosted Indoor Triathlons at our Downtown and 20th Avenue locations. Each event is run in a similar format with each discipline (swim, bike & run) having set start and finish times for each wave. Using this format allows both the beginner and the more experienced triathlete to participate at their desired level - and simultaneously! The finishing order is calculated by the total accumulated distance over the three events and is scored by age and gender. Teams of two or three participants are also welcomed to participate. Teams compete against other teams only.
Past participants have ranged in age from 10 to 78 years young and have come from Illinois, Iowa, Michigan, Minnesota and Wisconsin. These events are open to anyone age 10 and up.
For questions contact:

Oshkosh Event
Dan Braun
danbraun@oshkoshymca.org
(920) 236-3406 x311
(920) 230-8449 x113

Appleton Event
Heidi Bohl
(920) 954-7651
Green Bay Event
Chelsea Anderson
chelsea.anderson@greenbayymca.org
(920) 436-9589



PAST RACE RESULTS
Winter Race Results 2009 - 2013
Spring Race Results 2009 - 2013
Winter Race All-time Top Ten; Sprint Distance
Spring Race All-time Top Ten; Sprint Distance

2014 Winter Triathlon Final Results

Updated December 2, 2014