Activity Schedules & Reservations


---
CLICK HERE TO PRINT ONLINE RESERVATION INSTRUCTIONS
PLEASE NOTE: the below instructions only apply to group exercise classes, AOA classes, and pool activities. Child Watch and Youth Engagement Programs will register through Active by clicking the button above.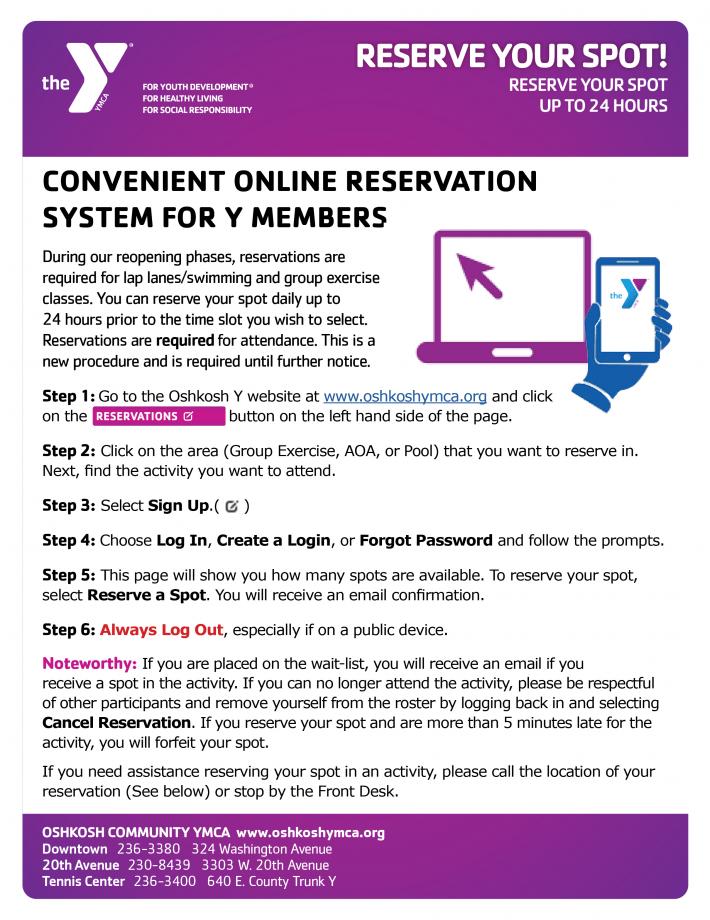 ---
Oshkosh Y members enjoy the benefit of over 165 free core Health & Wellness classes every week. These classes are run on a drop-in, continuous basis. Group Exercise is generally appropriate for members ages high school age and older.



Children 10 and older may attend specific fitness classes under the direct supervision of their parent or legal guardian. You must be 16 years of age or older for Body Pump and Active Together classes. Please see the FULL list of youth guidelines for participating in group exercise classes below.
---

ZUMBA: Zumba combines high energy and motivating music with unique moves that allow participants to dance away their worries. Great for the body and mind! It's a feel-happy fusion of Latin and International music-dance that creates a dynamic fitness system. The routines feature aerobic/fitness interval training with a combination of fast and slow rhythms that tone and sculpt the body.

YOGA: For all fitness levels. Yoga is a system of stretching and positional exercises derived from this discipline to promote good health, fitness and control of the mind.

TRX: Use suspension straps to push, pull and lift your bodyweight to develop strength, balance, flexibility and core stability simultaneously. *Please see TRX Punch Card Fees HERE.

TAI CHI: Tai Chi is a non-competitive, self-paces system of gentle physical exercises an stretching. In Tai Chi, you perform a series of postures or movements in a slow, graceful manner, each posture flowing into the next without pause. Anyone, regardless of age or physical ability can practice Tai Chi. This class teaches breathing coordinated with movement to enhance the development of inner energy and peace of mind. Participants will learn taiji basic exercises and a few taiji postures.

TABATA: Tabata is an interval training cycle of 20 seconds of maximum intensity exercise, followed by 10 seconds of rest, repeated without a pause eight times, for a total of four minutes. It is an intense and challenging form of interval training that will get your heart rate up while having fun.

PILATES: Pilates is a series of exercises that are performed on a floor mat, using few or no props. Exercises will develop muscular strength and fitness.

PILATES FOAM ROLLER: A mindful approach to strengthening the core through a series of movements done on the mat and floor. By using awareness of muscle activation and body control, Pilates can improve posture, flexibility, mobility, balance, and core strength. Foam Rollers and tennis balls are great tools to help you relax and maintain flexible, active, and pain-free muscles. Participants will learn how to safely and effectively target all the major muscle groups and discover techniques for targeting trouble areas. Youth 10-13 years old are welcome to participate with a parent/guardian.

P90X: Experience the at-home program as an hour-long class. We will start these classes with a few of the basic workouts used in the 90-day program including Core Synergistics, Plyometrics and Cardio X....along with other workouts as the class progresses.

MUSCLE CONDITIONING: This strength conditioning and toning class is a great compliment to anyone's cardiovascular routine. Increase muscular strength using resistance tubing, bands, weights and body bars. A class suited to both the beginner and the advanced. ​

MEDITATION: Train your mind like you train your body! Learn how to develop an attitude of curiosity and kindness toward your feelings, thoughts, and emotions, while boosting your wellbeing! Youth 10-13 years old are welcome to participate with a parent/guardian.

INSANITY: This class will push you past your limits with plyometric drills and intervals of strength, power and resistance, incorporating ab and core training techniques to sculpt and tone.

GROUP CYCLING: Take this non-impact journey conducted on specially designed stationary bikes. Our bikes are equipped with the Coach by Color system to keep you working hard and burning calories throughout the whole class. Individuals new to cycling are encouraged to arrive 15 minutes prior to class starting. Due to the equipment in these spaces, they are unavailable outside of class time. Youth 10-13 years old are welcome to participate with a parent/guardian, if the bike is fit by the instructor and is safe for them to use.

HOT YOGA: A system of static and moving exercises focusing on breath to increase flexibility, balance, and strength, as well as calm and focus the mind, done in a room between 85-95 degrees. Modifications and props are offered so all fitness levels can work at their own capacity.

HIP HOP: Hip Hop is a fun, energy filled class that gets your heart pumping! Follow along to routines choreographed to energizing hip hop and pop songs. No dance experience required.

HI/LO CARDIO FITNESS: Participants will love this new and updated class for multiple fitness levels. This class offers a full-body workout including a cardio section that incorporates free style Hi and Lo impact aerobic moves along with muscle conditioning and stretching.

H.I.I.T.: Challenge both your cardiovascular and muscular systems with this High Intensity Interval Training class. H.I.I.T. incorporates strength and endurance exercises with short bursts of cardio for a complete workout that will leave you drenched.

FIT CAMP: This class incorporates everything from step aerobics to kickboxing to muscle conditioning. You will utilize different types of equipment along with bodyweight and cardiovascular exercises.

FAMILY BOOTCAMP: This class is geared for the whole family (4 years old and older) and for every fitness level. Get a great workout as a family! We will focus on bodyweight exercises, good form, and sports drills.

ESSENTRICS: Perfect for men and women of all fitness levels, Essentrics is a dynamic, full-body workout suitable for all fitness levels that simultaneously combines stretching and strengthening while engaging all 650 muscles. This class will increase flexibility and mobility for a healthy, toned and pain-free body.

DEFEND TOGETHER: If you loved Cardio Kickboxing, this new format offers that and much more. MMA moves drive a great cardio experience that also strengthens the entire body. It's a great way to add variety to your training and improve timing, precision, and focus. Plus, it's a great way to kick stress out of your life!

CORE FOCUS TOGETHER: This 30-minute class that strengthens everything from your shoulders to your hips to make you stronger, quicker, and faster in all you do. In addition, strengthening your core can reduce back pain and give you great looking abs! It's quick, challenging and like nothing else!

CONTACT KICKBOXING: Cardio Kickboxing that incorporates equipment for a workout that packs some major punch! We encourage you to bring your own gloves.

LES MILL'S BODY PUMP: This barbell workout is for anyone looking to get lean, toned, and fit- fast. Using light to moderate weights with lots of repetitions set to motivating music. Must be at least 16 years old to participate.

AEROBIC DANCE FITNESS: Enjoy a great workout while moving to the beat! This class will improve your cardiovascular endurance through fun and easy-to-follow moves and will incorporate strength training for a well-rounded workout! Youth 10-13 years old are welcome to participate with a parent/guardian.

ACTIVE TOGETHER: Activate Your Life in only one hour! Active Together gives you all the training you need – cardio, strength, balance, and flexibility – in just one hour. Get stronger and healthier with inspiring music, adjustable dumbbells, weight plates, body weight, and simple athletic movements.