Scroll Down For Hours & Schedules
SCHEDULES:
Click the program area below to view schedule.
GROUP EXERCISE SCHEDULE - DT & 20TH AVE:
Group Exercise Class Schedule | Reserve your spot in a Group Exercise Class online HERE.
PLEASE NOTE: Our Group Exercise Platform is also being used for reservations and other program offerings as well. You can FILTER your results by category, location, class name and instructor to make it easier to find the offering you are looking for.

See the front desk for help!
20TH AVENUE SCHEDULES:


Pools | Lap Swimming, Whirlpools & Lazy River Open June 15 by reservation only
Gymnasiums | Reopening June 8 with limitations
Indoor Soccer Arena |

CLOSED

for Phase One Reopening
Indoor Ice Arena | CLOSED until Fall
Family Prime Time Center | CLOSED for Phase One Reopening
Water Fitness | Limited Classes begin July 6
DOWNTOWN SCHEDULES:


Pools | Lap Swimming, Whirlpools & Lazy River Open June 15 by reservation only.
Gymnasium | Reopening June 8 with limitations.
Water Fitness | Limited Classes begin July 6
---
HOURS OF OPERATION:
TEMPORARY PHASE ONE REOPENING HOURS:
(BEGINNING JUNE 1)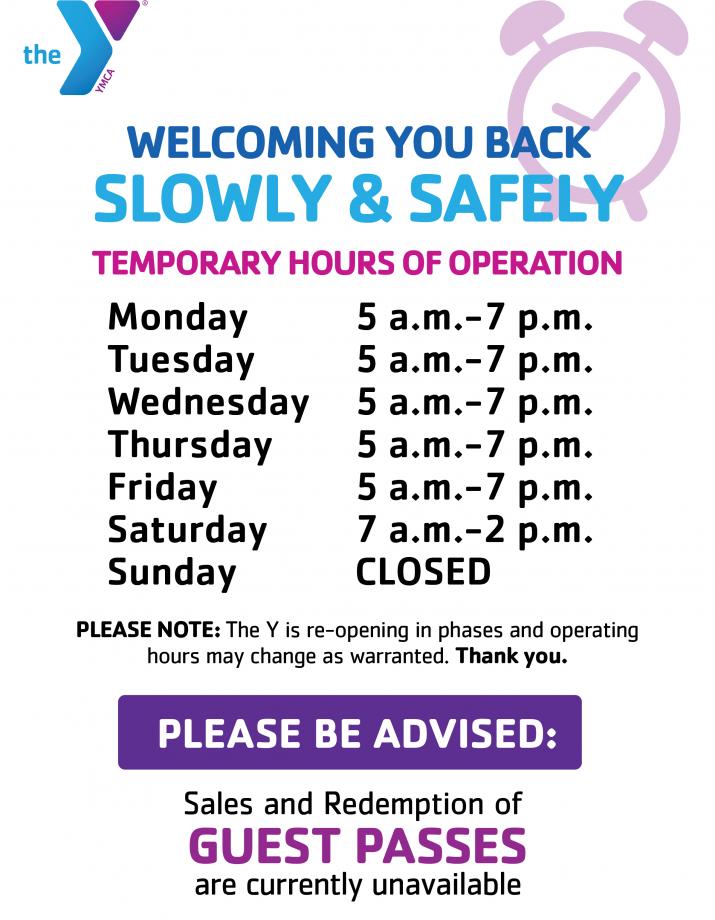 DOWNTOWN & 20TH AVENUE HOURS:
Monday 5:00 a.m. - 7:00 p.m.
Tuesday 5:00 a.m. - 7:00 p.m.
Wednesday 5:00 a.m. - 7:00 p.m.
Thursday 5:00 a.m. - 7:00 p.m.
Friday 5:00 a.m. - 7:00 p.m.
Friday 5:00 a.m. - 7:00 p.m.
Saturday 7:00 a.m. - 2:00 p.m.
Sunday CLOSED
---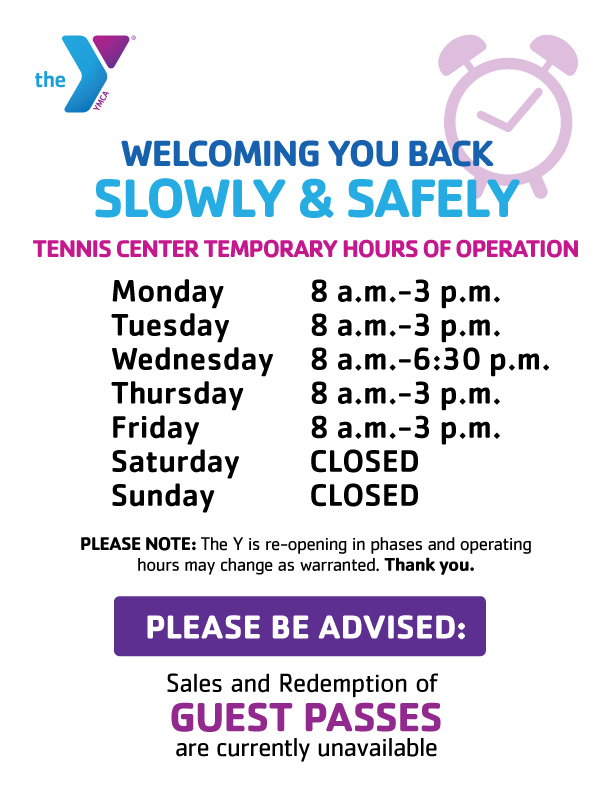 TENNIS CENTER HOURS: (Hours may vary based on court usage)
Monday 8:00 a.m.-3:00 p.m.
Tuesday 8:00 a.m.-3:00 p.m.
Wednesday 8:00 a.m.-6:30 p.m.
Thursday 8:00 a.m.-3:00 p.m.
Friday 8:00 a.m.-3:00 p.m.
Saturday CLOSED
Sunday CLOSED

CLOSED DAYS:
New Year's Day (Open 11 am - 3 pm), Easter Sunday, Memorial Day, Independence Day, Labor Day, Thanksgiving Day, Christmas Eve (Open until 2 pm), Christmas Day, and New Year's Eve (Open until 5 p.m.), New Year's Day (Open 11 a.m.-3 p.m.)

---
SESSIONS:
GENERAL:
SUMMER 1 June 1-July 19 CANCELLED for the safety of our members
SUMMER 2 July 20-August 30 Activity Members register 7/6/20
AQUATICS:

Swim 1: CANCELLED for the safety of our members
Swim 2: July 6-23 Activity Members register 06/22/20
Swim 3: August 3-20 Activity Members register 07/20/20
---

GUEST PASS POLICY