Growing up, my family struggled financially; my 7 siblings and I weren't able to go to a gym and sports were very limited. Unfortunately, this lead to not playing the sport that we loved, it meant having too much time on our hands and getting in trouble, and most importantly it meant being unhappy and unhealthy!! It is very easy to take an establishment like the YMCA for granted, but when you've experienced life without one it's very hard to do that …what I wouldn't have given to have access to a YMCA!!
Luckily things changed once I got to college; I took the initiative to make better health decisions and exercise regularly. Once I got to Chiropractic College, I was eager to continue my health journey. My boyfriend (now husband), who was also my biggest advocate, joined the local YMCA with me. We were on a student's budget, so luckily we were eligible for a reduced gym rate and were able to utilize the Y regularly; it was a huge stress reliever for us both while we were completing a demanding academic schedule and helped us stay in good physical shape (even though we were eating ice cream and ramen noodles for each meal). The YMCA was a very big part of our lives and we never took for granted what that organization provided for us back then.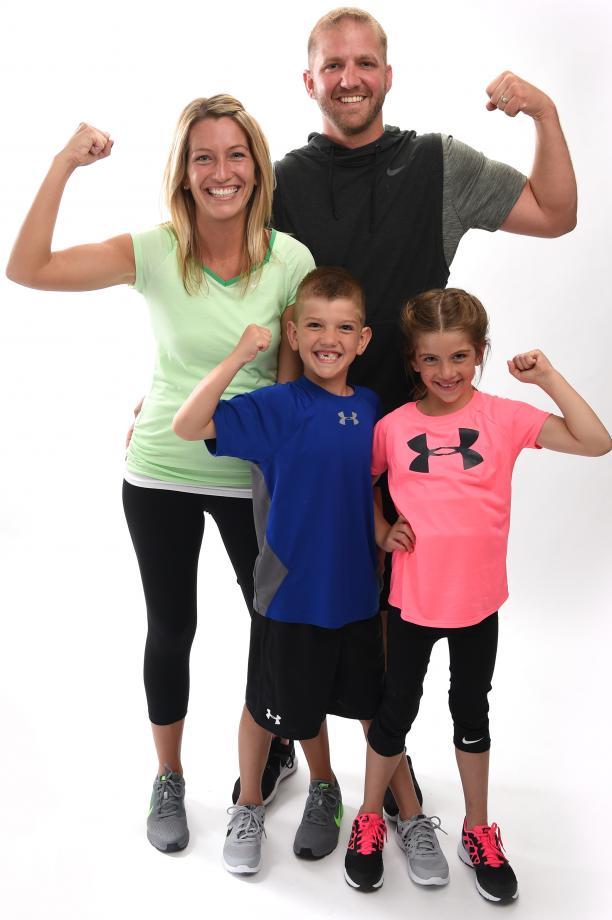 Since moving to Oshkosh 10 years ago we have added 2 kids into the mix and appreciate the YMCA in even more ways. When the kids were younger I would bring them to the Y with me and put them in the drop in child care; I could actually attend a workout class and/or run on the treadmill…this was my means of finding myself again and setting post-partum goals. It was hard for me to find any "ME time" during this time of my life and the YMCA once again provided me with a facility that helped me relieve stress, get back in shape, and build relationships with other moms that shared the same health goals.
The past couple years have also been imperative to our children's athletic development; we have made a point to start their exposure to health and wellness early on, so that they aren't forced to learn later in life like I did. At ages 8 and 6, we are proud to say that both of our children have been able to try every sport imaginable because of the YMCA - what a blessing that has been… This has been the stepping stone for our children in finding the one (or two) particular sports that they really enjoy.
My husband, Jeff has loved the convenience of the YMCA and will often go bright and early at 5am before going to work. There is a high level of stress when you are a business owner and he continues to depend on the YMCA to maintain his level of health and decrease stress.
The YMCA has meant a lot to us as a family; it has been with us through many ups and downs – We realize that when we needed physical, mental and financial support, that the Y was there for us. Our feelings of appreciation run deep and almost feel indebted to this organization…We have gaged our success with our business on WHEN we were able to give back to this (Oshkosh community based) facility that has given us so much. This goal of giving back has been a reality this year and we couldn't be happier!! Thank you Oshkosh YMCA! #BecauseY
- Stephanie Krueger
Photos Courtesy of Limelite Studios