Mike has been coming to the Oshkosh YMCA (DTC) for several years with his mentor, Donn. He loves the YMCA because it provides him with a place to exercise and meet new people. Mike and Donn visit the Y on a weekly basis for their routine water exercise workout. Our staff is continually inspired by Mike's positive attitude and smiling face.
Mike is seriously handicapped with cerebral palsy. In addition to suffering from CP, Mike has scoliosis in one of his knees. Although it's challenging, he is very adamant about visiting the Y each week to help prevent his knee from needing surgery. Mike's disabilities may limit his physical activity but he is 100% motivated to use the abilities he's been given to get out and exercise.
It takes a great deal of effort for Mike to get dressed and undressed for water exercise time in the pool. Mike's determination helps him overcome these challenges. His disabled legs greatly benefit from water walking, and so does his spirit. Mike always leaves the pool in a great mood. The exercise is such wonderful therapy for his body and his mind.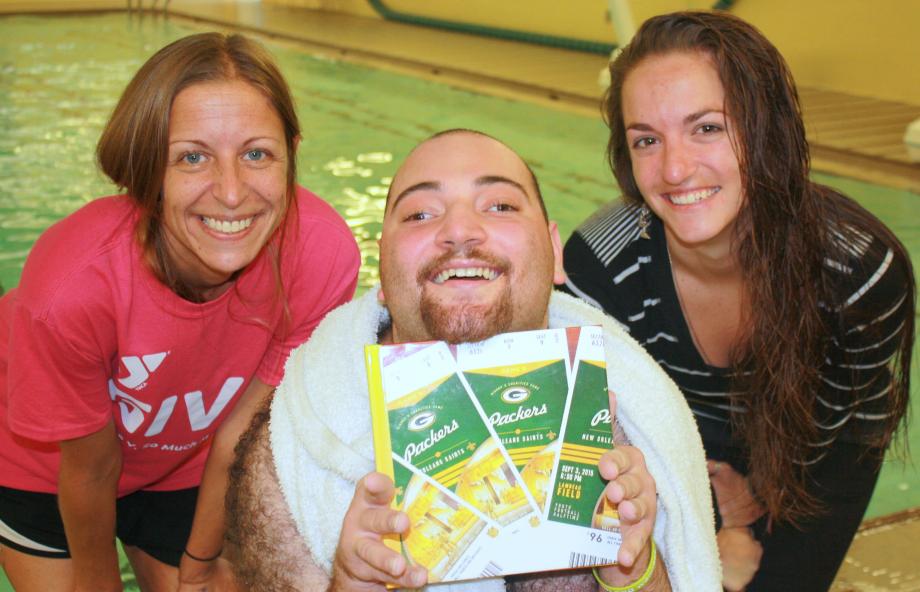 Donn makes Mike promise to walk in the pool for at least 20 minutes each time they come to the Y. It's not that he doesn't want to; he simply loves talking with the staff in the pool office. Often times Mike will try to rush through his exercise period so that he can spend more time with our staff. As a regular pool attendee Mike has developed close friendships with our Aquatics Director, Tracy Gilles, and our Aquatic Coordinator, Lisa Bifano.
"Mike always makes me smile," says Lisa, "he's super expressive about the things he is passionate about, like the Packers!"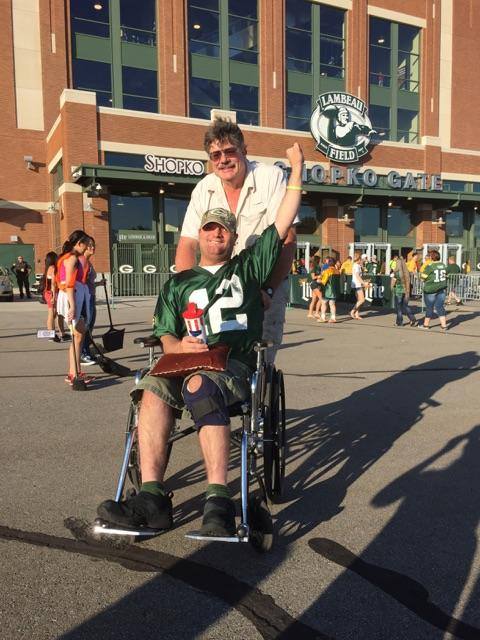 Mike got to visit Lambeau for the first time last fall after a generous board member offered him and Donn each a ticket. Lisa and Tracy were able to accompany Mike for his first Packer game experience.
Aside from visiting the Y, Mike stays active in many other ways. Mike and Donn do a lot of walking, they make walking sticks, build birdhouses, visit their garden in the summertime and volunteer together. One of Mike's favorite hobbies is watching the Green Bay Packers and the Wisconsin Badgers. Mike also LOVES Elvis Presley.