My teaching career at UW-Oshkosh began in 1969 and I retired in 2000. Although I had spent some time at the Downtown YMCA on occasion, I used the UW-Oshkosh workout facilities on a regular basis. When the 20th Avenue YMCA opened in 2002, I lived almost directly across the street. It was very convenient for me. I took full advantage, using the facility 5-6 days a week. Since then, I have continued to use the fitness and strength training facility, as well as the pool, working out at the Y at least 5 days a week.
I believe that the older one becomes, the more difficult it seems to work out and exert oneself. However, I believe that the older one becomes is when it's most important to push oneself, within reason, in order to maintain strength and stamina. I'm not training for a particular event; I'm training for the highest quality of life possible. I believe that the human body was designed to move and by maintaining the motion around all of our joints we are able to do more and enjoy our mobility longer.
​Being a member at the Y has not only given me the opportunity to keep my fitness levels up but it's also enabled me to recover from a variety of ailments over the past 15 years. Whenever I experienced some physical setback, I believe I was able to endure the setback with less physical and emotional stress because of my fitness level. With the accessibility of the YMCA, I was able to recover faster while progressively using the various exercise equipment to restore my physical capacity.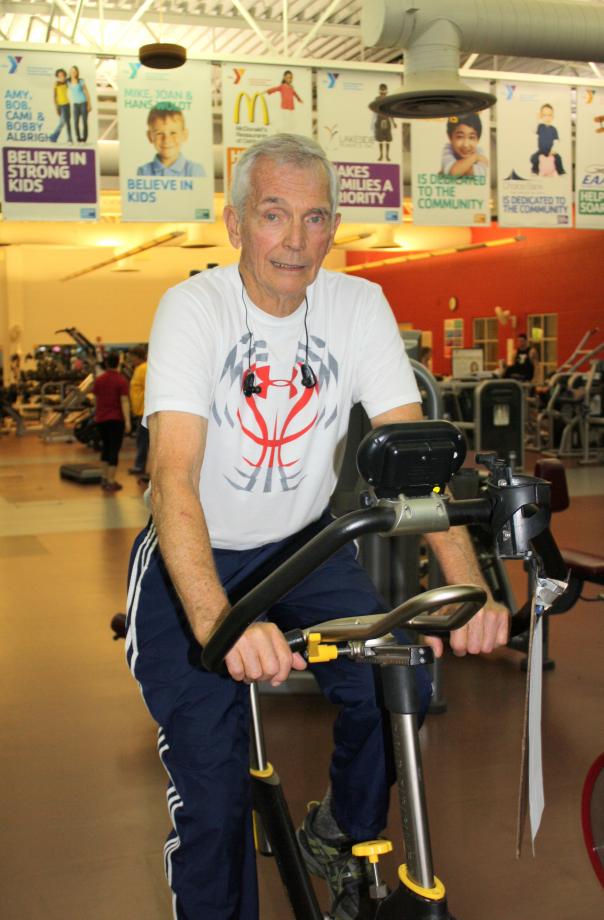 Ken's list of ailments include the following:
•open heart surgery (triple bypass) in 2003
•total knee replacement (8th surgery on left knee) in 2003
•amputation of ends of ring and middle fingers of left hand in 2005
•partial colon removal due to diverticulitis in 2006
•removal of artificial knee due to joint infection; 2 months in nursing home with IV antibiotics 2X/day; re-replacement of knee followed by another month in nursing home for physical therapy in 2013
•infection of left shoulder joint due to cortisone injection; surgery to clean out joint followed by one month of daily IV antibiotics in 2015
After becoming an active member of the Oshkosh YMCA in 2002, Ken continues to visit the 20
th
Ave facility almost daily. Although he's had to overcome more surgeries and recoveries in a decade than most do in a lifetime, Ken has never given up on his fitness regimen. His dedication to health and wellness is truly remarkable.