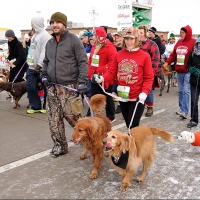 Turkey Trot Time!
by Molly Butz | October 29, 2017
The 10th Annual Festival Foods Turkey Trot will take place on Thanksgiving Day, November 23, 2017. The Turkey Trot offers two events – a five mile run and a two mile walk – to accommodate participants of all ages and abilities. Attendees enjoy upbeat music, high quality long-sleeved t-shirts and free Festival Foods pumpkin pies at the finish line that they can take home and enjoy with their family.
The event also features a Dog Jog, in which four-legged family members are allowed to participate. The Dog Jog will start at the back of the 2-mile event and will follow the 2-mile route. No dogs are allowed on the 5-mile route. Please only bring dogs that are well-behaved and used to being around other dogs and people. The dog should be kept on a leash that is shorter than six feet, and no retractable leashes, which may be hazardous in a crowd. New this year, dogs
must
be registered with an accompanying adult or child. The cost to register a dog is $5, however your furry family member will receive a Turkey Trot bandana and dog treat coupon.
Registration is now open and available by visiting
www.festivalfoodsturkeytrot.com
. Early bird registration is going on now through October 31 for $20 per adult participant and $15 per child under the age of 18. Regular registration begins on November 1 through November 20 for $25 per adult and $20 per child. Race day registration on November 22 and 23 is $30 per adult and $25 per child. T-shirt sizes can only be guaranteed for those registered on or before November 19.
Shirts and bibs can be picked up at the Oshkosh Arena, 1212 S. Main Street, between 2-6 p.m. on Wednesday, November 22 and beginning at 6:30 a.m. on Thanksgiving Day. The Trot starts promptly at 8:00 a.m. and there are two different start lines. Be sure you are in the correct area to ensure you are on the right course. The 2-mile walk begins at the corner of Main Street and 14
th
Ave and the 5-mile run begins at the corner of Main Street and 11
th
Ave.
Please note:
these are
new
routes for the Oshkosh Turkey Trot. Detailed maps can be found on the Turkey Trot website.
The Turkey Trot benefits the Boys & Girls Club and YMCA in communities Festival Foods serves. Both organizations provide volunteers in return for monetary proceeds. Volunteer positions are available at the Oshkosh Arena on Wednesday before the race from 2-6 p.m. and on Thursday morning before the race from 6:00-8:30 a.m. Volunteers are also needed during the race along the route and also at the water station across in Menomonee Park. To register for a volunteer position, people can log on to
www.festivalfoodsturkeytrot.com
and click on "Volunteer" under the Oshkosh location. In the past seven years, the Turkey Trot has donated more than $1,930,000 to participating communities.
Here are the top 10 reasons everyone should participate in the 2017 Festival Foods Turkey Trot:
It's Fun!
You get to support two amazing charities in Oshkosh – the Oshkosh Boys & Girls Club and the Oshkosh Community YMCA!
You receive a free Turkey Trot t-shirt for volunteering or participating!
You receive a free Pumpkin Pie for participating in the 2-mile or 5-mile event!
Even your dog can get some exercise in the "Dog Jog"!
Start your day off right – with exercise! A 150 pound person will burn approximately 562 calories by running the 5-mile run and a 150 pound person will burn approximately 159 calories walking 3.0 miles per hour during the 2-mile walk.
Relieve holiday stress!
Celebrate your racing accomplishments with the most delicious post-race meal ever!
Start a new, healthy family tradition!
Give back to your community!
If you have questions specific to how you can get involved in Oshkosh, contact local race director, Molly Yatso-Butz at
mmyatso@yahoo.com
or Boys & Girls Club Charity Representative, Katie Huebner at
katieh@bgcosh.org
.