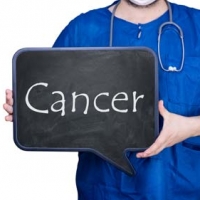 Physical Activity and Cancer
by Molly Butz | December 17, 2017
Exercise is defined as any movement that uses the muscles and requires more energy than resting. Research continues to prove that higher levels of exercise are linked to lower risks of several cancers. Research also shows that in addition to chemotherapy and radiation, an exercise program during and after cancer care can help lessen side effects and decrease the chance side effects will come back. Exercise during cancer treatments has also been shown to lower anxiety, decrease depression, improve mood, improve blood counts and lower fatigue and pain. Kim Berndt, Occupational Therapist with Aurora Health Care in Oshkosh states, "Weight gain and fatigue are the most common side effects cancer patients will see when going through treatment. Exercise has proven to be the only thing that helps with these concerns."
Cancer rehabilitation programs can help people who have or will have surgery, people who have or will have chemotherapy, people who have or will have radiation, and people receiving hormonal or biological therapy. "We can help treat, reduce, eliminate, and prevent dysfunction," adds Berndt. "An exercise program can help eliminate pain, reduce fatigue, restore join mobility, restore tissue flexibility, restore strength, and safely reintroduce the body to activities." Exercise also helps the cancer patient by lowering hormone levels (insulin and estrogen) that have been linked to forms of breast and colon cancers, reduces obesity and its harmful effects, reduces inflammation, improves immune system, alters metabolism of bile acids, and reduces digestion time which lowers colon cancer risk. "Cancer survivors who exercise lose weight, improve quality of life and reduce their recurrence risk," states Berndt.
A cancer rehabilitation program will include cardiovascular exercise, strength training, and stretching. Walking programs have proven to be very successful for cancer rehabilitation. "A walking program has the potential to decrease a person's risk of cancer coming back by 40 to 50 percent," adds Berndt. "It can also minimize fatigue, help maintain weight, bone and muscle mass, and maximize activity tolerance." Strength and stretching exercises also help reduce weakness, fight muscle loss, improve functional movement, restore range of motion, improve posture and reduce stress.
Erin Lamers, Physical Therapist at Aurora Health Care Oshkosh explains, "Our cancer rehabilitation program is all encompassing. We not only perform physical exercise with the patient, but mental and cognitive exercises are incorporated as well." Lamers adds, "Therapy should be just as vital as chemotherapy and radiation treatments. People leave therapy feeling better, more energized, and more in control of their lives."
Both therapists recommend people always check with their doctor before starting any type of exercise program. "Our program is individualized to the patient's specific needs and includes one-on-one care," states Berndt. "It's never too late to begin an exercise for cancer rehabilitation program. Patients should speak with their physician and request a referral for therapy services." For more information, contact the Aurora Physical Therapy department at 920.456.7100.