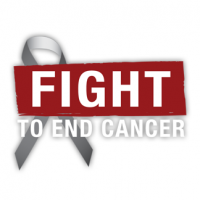 Ice Hawks Fight Cancer
by Molly Butz | January 7, 2018
Cancer care at Aurora means more than just treating the disease – it means treating the whole person and the people who support the patient. A diagnosis of cancer can bring many emotions and questions. Aurora Health Care Cancer Care is a team of specialists working together to bring hope to the cancer patient and their family. Aurora Health Care has earned the Outstanding Achievement Award from the American College of Surgeons Commission on Cancer. Services and treatments available through Cancer Care at Aurora Health Care include: autologous stem cell transplant, chemotherapy, clinical trials, genetic counseling and testing, immunotherapy, radiation oncology, surgical oncology, cancer nurse navigators, art therapy, cancer buddy program, counseling, financial and legal counseling, integrative medicine, palliative care, cancer rehabilitation, and support groups.
Here are many other reasons why patients choose Aurora for their cancer needs:
Aurora Cancer Care has treatment sites from Northern Illinois to Wisconsin's Upper Peninsula to provide treatment close to home.
Close to 33,000 people in Wisconsin will hear the words, "you have cancer" this year.
Aurora's patients have access to more than 170 open cancer clinical trials – all close to home.
14.5 million people will celebrate being a cancer survivor in the United States this year.
Aurora Cancer Care will help over 8,000 people facing cancer in our communities this year.
Aurora Cancer Care Spanish Clinic is the 1st only fully bilingual, Spanish-speaking cancer clinic in Wisconsin.
Over 150 cancer specialists partner with patients to fight their battle with cancer.
1 in 4 newly diagnosed patients in Wisconsin choose Aurora Health Care for treatment.
Aurora Cancer Care has the first and only GYN Robotic Surgery Epicenter Training Program in Wisconsin.
Aurora started a weekly Precision Medicine Clinic, an initiative part of the Moonshot to Cancer.
Aurora Health Care has earned the Outstanding Achievement Award from the American College of Surgeons Commission on Cancer, with only 19% of centers earning this honor.
Aurora is the 1st in Wisconsin to perform new treatment for pancreas and liver cancer using the NanoKnife.
On Saturday, January 27, the Oshkosh Ice Hawks High School hockey team will host "Ice Hawks Fight Cancer Night" at the Oshkosh YMCA, 20
th
Ave. location. The varsity game will be played at 6 p.m. and the junior varsity game will be played at 8 p.m. All profits from this event are donated to the Vince Lombardi Cancer Clinic at Aurora Health Care in Oshkosh. The Oshkosh Ice Hawks Hockey team is a high school team compiled of five different schools from the area – Oshkosh North, Oshkosh West, Lourdes, Laconia, and Ripon. Advance tickets are available for purchase through the Aurora Health Care Foundation by emailing Molly Butz at
molly.butz@aurora.org
. Tickets can also be purchased at the door. Advanced tickets will have the ability to be entered into a raffle drawing for 1 of 2 Zamboni rides during the varsity game. There will also be basket raffles and silent auction items to win. Ticket prices are Children (6+) $3.00, Seniors (65+) $4.00, and Adults $5.00.
This year's event will be in honor of Robin Werner and Mark Hermann. Robin Werner was diagnosed with ovarian cancer in 2006. Despite her aggressive treatments, had it not been for her beautiful scarfs you would not have known that Robin was a cancer patient. Throughout her painful treatments Robin always maintained a positive attitude, a phenomenal outlook on life and an endless devotion to her job, her coworkers, and most of all her family. Robin loved to share her fond winter memories of skating as a girl on the ponds of Oshkosh. Robin longed for her kids and grandkids to be able to experience the fun and exhilaration of skating and playing hockey in the outdoors. In a move that was typical of Robin's determination, she purchased the materials needed to build a backyard ice rink and had her husband and sons put it up right outside her kitchen window. Even though Robin didn't have a famous hockey player in her family, or even a child that played organized hockey, Robin was in fact the biggest hockey fan in the world when she watched from her kitchen window as her kids and grandkids played shinny in the hay field. Robin Werner died on September 27, 2012 at the age of 56.
These are the words Mark left us with: "On July 26th a surgical procedure was performed to remove a large tumor on the right side of my brain. The tumor was 90% removed. This was good. Not so good was the pathology report. That news was not what I had expected at all. The brain cancer came back at level 4, very high, and a very aggressive form of brain cancer. The news at first was devastating for me and for my family and all those I love so very much. I can honestly tell you that from the bottom of my heart, your prayers and support are helping me live on in such a glorious way. I have no idea how much more time I have on this beautiful green earth, but it will be enjoyed every single day. The decision to not do chemo or radiation was a relatively easy one for me and my immediate family. They have been gracious and behind my decisions 100 percent. My purpose in life was not to always grab what I was due. My purpose was to reach out to someone, anyone, and make it a better day for that individual. I have always liked people and making a personal connection meant even more. I find in life, if you get people everything they want, you will be paid back in return 10-fold. I feel that I succeeded in that cause. Treat people well. Take care of them. Nurture them. When my time is up on this earth, yes, I would love to be remembered as someone that made a little difference in someone's day. In closing, all of the support has gone way over the top. We do have some head winds that we must contend within the days and weeks that are ahead. With all of your support and my family's support, we will thrive. One thing I ask myself on a daily basis is if I have loved today and in return accepted someone's love. Mark Hermann died on November 20, 2017 at the age of 57.
The Oshkosh Ice Hawks are proud to remember them at this year's event.