Floyd & Linda Gogolin: Strong and Determined Seniors
by Abbey Burlingham | September 22, 2020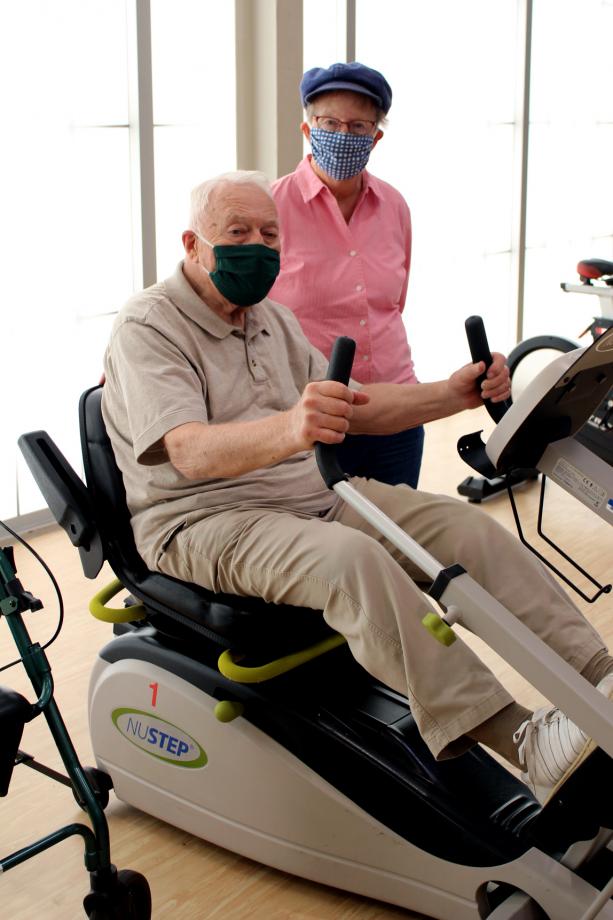 If there is one thing that most people can agree upon, it is that 2020 has been an extremely challenging year for all of us, but especially for our senior population.

At the Oshkosh Y, serving and engaging seniors, and providing opportunities to stay connected has always been at the core of what we do. With our doors closed though, this became difficult and provided new challenges for our senior "Y family" like social isolation, stress, and loneliness. Although the Y responded to the changing times and community needs in transformative ways, providing virtual content and opportunities, and adapting to serve ALL of our community – there was something missing.

Reopening our doors meant MORE than just unlocking and letting our members back into our facilities. It meant welcoming them back with a smile (from 6 feet away, of course), to a place where they felt safe, welcome, and home. Since reopening our doors, our community has embraced coming back and Oshkosh Y and senior members, Floyd (84) and Linda Gogolin (78), will tell you – it's good to be back!

Floyd and Linda joined the YMCA in Beaver Dam just over 8 years ago. Two years later they moved to Oshkosh to be closer to their daughter, son-in-law and their three grandsons. Upon moving to Oshkosh, they transferred their membership to the Oshkosh Y and joined Trinity Lutheran church to find a sense of community.

The Y quickly became part of Floyd and Linda's daily routine and our staff loves knowing that every day, mid-day, we can count on Floyd and Linda to come through our doors with a warm smile. Although their smiles are hidden by masks, their friendly greetings as they scan in warms our hearts, and the feelings are mutual. "The people at the front desk, they are so friendly every time we scan our card. They have a sense of humor too," says Floyd. "We feel safe here, and very welcome."

Linda and Floyd love to use one of our more popular machines, the NuStep. With some spinal and balance issues and older age, Floyd has found it difficult to exercise. The NuStep bike has been a wonderful option for him and Linda both. Linda has some arthritis in her knees and coming to the Y and using the NuStep with Floyd has helped immensely.

One thing we love about the Gogolins is that they are dedicated and work together as a team. "We do everything together," says Floyd. "With Linda being the youngster, she is the motivator. We come every day. Even weekends!"

Although they just see coming to the Y as part of their "normal" routine – we see strength and determination and are inspired by them daily.

During this pandemic, the Gogolins missed coming to the Y. They tried to stay active by walking around the house and enjoyed getting phone calls from their two daughters and daily "smile of the day" facetime videos from their grandson. The calls and videos were nice, but Floyd and Linda were grateful to return to the Y as soon as it opened. "We've made friends at the Y and our church," said Linda. "We also like to watch everyone else around us (at the Y), they stay active and fit. It's motivating," adds Floyd.

As our community braces through the ebbs and flows of the rapidly changing environments, we feel blessed and honored to be able to continue to safely serve our entire community, and like Linda and Floyd, we look forward to showing up daily and inspiring everyone, from youth to seniors, to grow in body, mind and spirit.