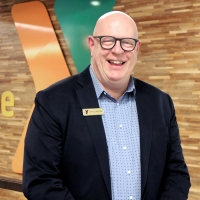 A Letter From Our CEO, Jeff Schneider
by Jeff Schneider | February 4, 2020
In December 2019, I was honored to be chosen by our Board of Directors to succeed Tom Blaze as CEO. Tom successfully guided our YMCA through 17 years of tremendous growth and community impact. It was a pleasure to serve alongside him during such an exciting time. I am fully dedicated to continuing the direction that Tom set forth, leading the Oshkosh YMCA into the future.
Y staff and volunteers are humbled by the many stories we hear about how our Y is making a difference. Whether we are helping veterans cope with physical and mental effects of war through the Beyond Limits program, improving the daily life of someone diagnosed with Parkinson's as a result of Rock Steady Boxing, teaching a child critically important water safety, or providing a family in financial need necessary child care, be assured our Y fulfills our mission right here in Oshkosh every day.
2019 was another strong and active year for the Oshkosh Y. We served 29,390 unduplicated individuals. Members made over 658,000 visits to our facilities. In addition, we welcomed over 300,000 community visits to our 20
th
Ave facility for program, sports and special events. Below you can view our 2019 Annual Report that highlights the number of people we impact through the hundreds of programs and services we offer. I am extremely proud of the broad reach of our Y - not only in Oshkosh, but throughout the region. Every visit and program registration provide opportunities for us to nurture the potential of individuals, to improve the health and well-being of families and provide ways for people to get involved and give back.
The foundation of our Y is very strong. The strength in our Y lies with talented staff, dedicated volunteers, committed donors and members, and a focused mission - a foundation we will nurture and sustain for years to come. We will continue to seek meaningful opportunities for our staff to grow and develop, for our volunteers to get involved and for our donors to support our mission and impact. Our Oshkosh YMCA will continue to advance, innovate and be a leading Y in our state for all the ways in which we encourage our members and our community to grow in spirit, mind and body.
I am truly excited for a successful and meaningful 2020.
Happy New Year and thank you for being involved with our Y!
Jeff Schneider,
President/CEO